Jasper Capital International May Newsletter
2017/5
Benjamin Pollock, CFA, +86 0755-6182-6936
benjamin.pollock@jasperam.com
Bush Guo, +86 0755-61826936
bush.guo@jasperam.com
Value Investment Has Made Its Way to China—But How Long Will It Stay?
The month of May saw overall share prices and trading volume in China's equity markets move lower, where thepresence of tighter interbank funding and regulatory changes that have extended the duration of restrictions on largeshareholder stock sales acted as important factors driving investor sentiment.
In the current environment, investor appetite has been noticeably skewed towards large cap value shares. An investment in the SSE 50 Index, whose constituents represent China's Blue Chip companies, would have returned over 6% duringthe month of May, while an investment over the same time period in the Chinext Index, representing China's mediumand small cap growth companies, would have lost almost the same amount.
Needless to say, a strong divergence in investor preferences is evident in 2017. However, some signals of improvingappetite for undervalued medium and small cap growth shares have been spotted in early June. In the Market Focussection of this month's newsletter we will review and analyze the factors driving changes in investor sentiment in 2017and assess the likelihood that current bullishness towards Blue Chip shares represents the start of a long-term tilttowards large cap value.
Large Cap Value the New Fad in 2017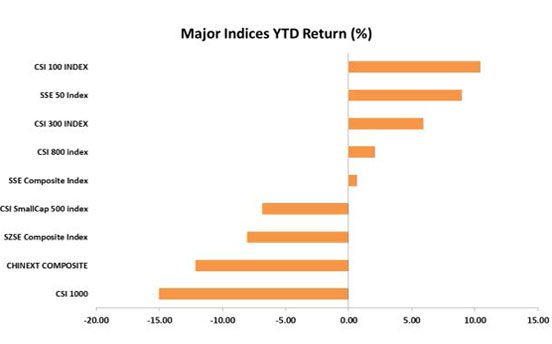 Trading Volume Lower in May; Funding Liqudity Environment Continues to Tighten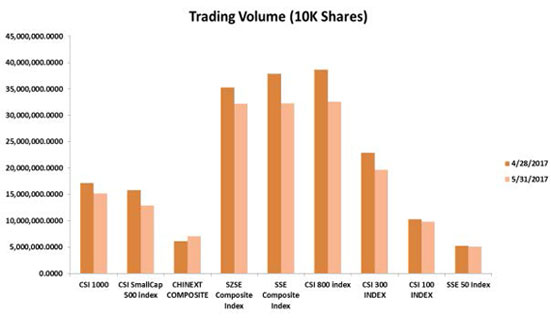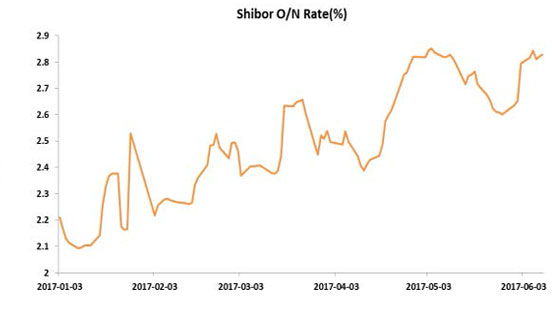 Domestic Demand Story Remains Resilient
GDP growth has accelerated in the past 2 quarters, marking the first period of back-to-back quarterly acceleration since2010.
A combination of supply side reforms and monetary easing starting in 2015 led to a commodity price surge whichdrove restocking in 2016 and which provided a boost to A-share revenue growth.
In terms of profit growth and margins, upstream industries were the biggest benefactor of the most recent restockingcycle, while downstream industries have seen margins eroded by the rise in materials prices.
Looking forward, the effects of a more prudent monetary stance adopted by the PBoC in early 2017 should start to filter through to the real economy later in the year. However, the unexpected resilience of property sector investment inthe current tightening cycle, better-than-expected external demand, and strength in infrastructure investment suggeststhat the economy could begin to face headwinds from policy tightening later than the consensus forecast of 3Q17 set atthe start of the year. .
From a long-term perspective, we remain optimistic on China's growth prospects. We feel the macro level constraintswhich many economists focus on when forecasting China'sgrowth have overshadowed the many good thingshappening at a micro level in the economy that should be weighted more heavily when formulating long-term growth forecasts.
GDP Accelerates Two Consecutive Quarters on the Vapors of the Previous Easing Cycle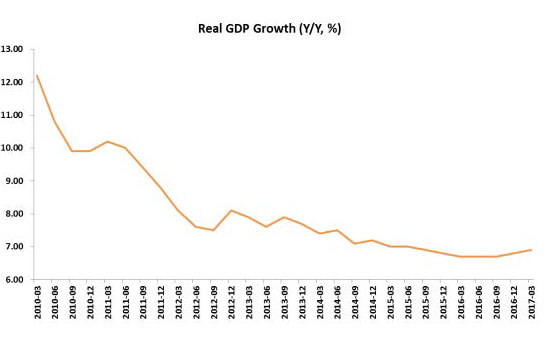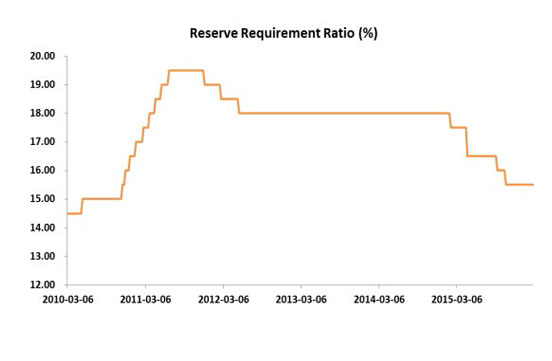 Past Credit Easing Cycle Stimulated Commodities Prices, Which In-turn Drove Restocking Cycle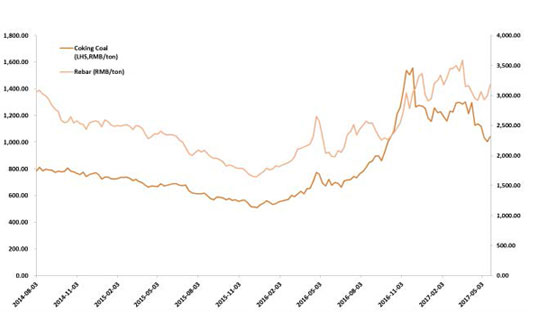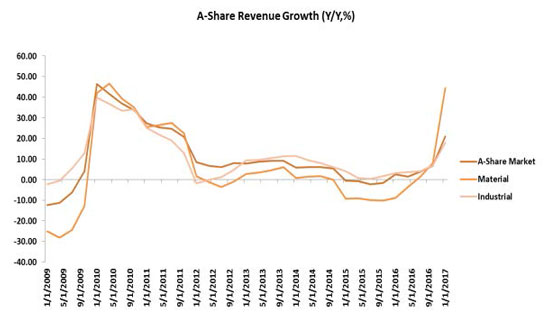 Materials Sector A Primary Benefactor of Past Monetary Easing and Supply Side Reforms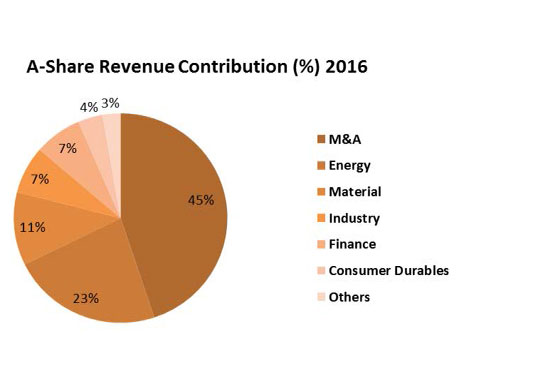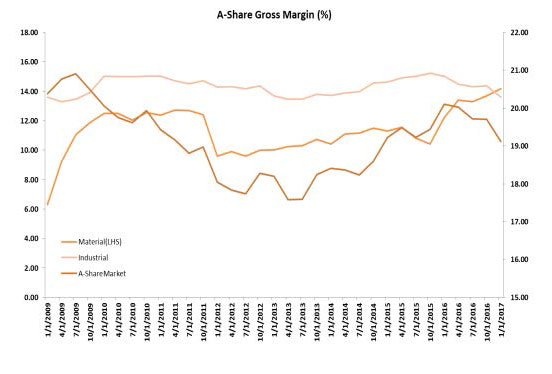 Export Environment Better-than-expected in 2017; Real Estate Investment Holding Steady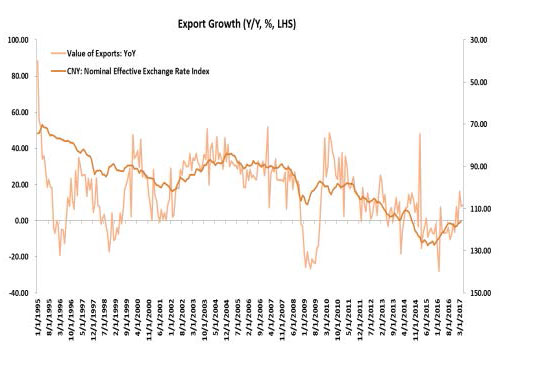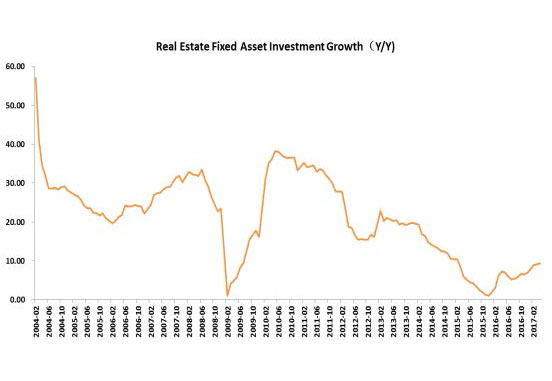 Market Focus: How Long Will the Tilt Towards Value Investment Last?
The past two months have seen a marked change in investor sentiment that has shaped equity market.
performance and created a clear delineation between short-term winners and losers in China's equity markets. The broader domestic indices have seen their previous gains for the year erased, while indices representing the large cap segment of China's stock market (e.g., CSI 300 and CSI 50), synonymous with value style investments, have charged ahead. A clear shift in investor preferences from medium and small cap growth to large cap value is evident over the past two months.
Large Cap Value Investment Has Noticeably Outperformed Mid-Small Growth Since April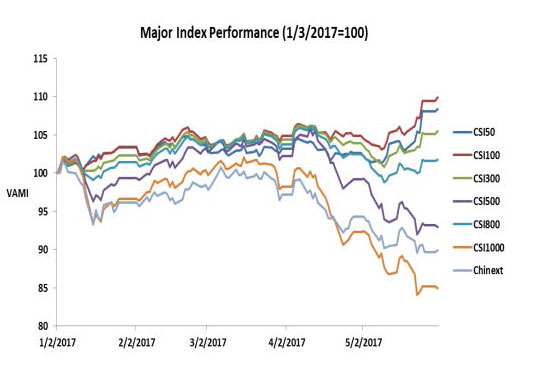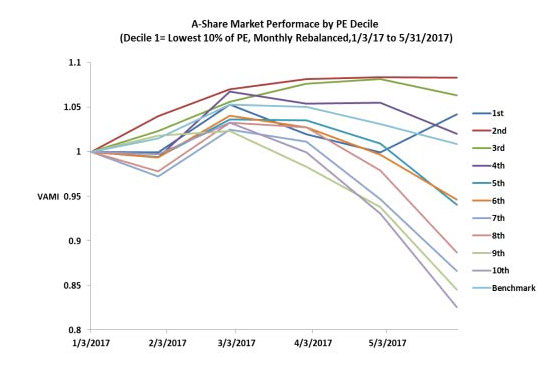 Two Important Questions Investors Must Answer Going Forward:
1) What are the primary forces behind the tilt towards large cap value?
2) Do the changes that have occurred represent the start of a long-term trend or only a short-term divergence from the previous path?
Deleveraging Campaign Has Had Significant Impact, But Not the Most Important Factor
China's most recent credit easing cycle lasted from December 2014 to January 2016. Since then, the government has taken incremental steps to squeeze leverage from the economy and the financial system. The focus in 2016 was on leverage in the real economy. In 2017, the focus has turned to leverage in China's financial system.
Financial System Deleveraging Campaign in 2017 Has Sent Bond Yields Climbing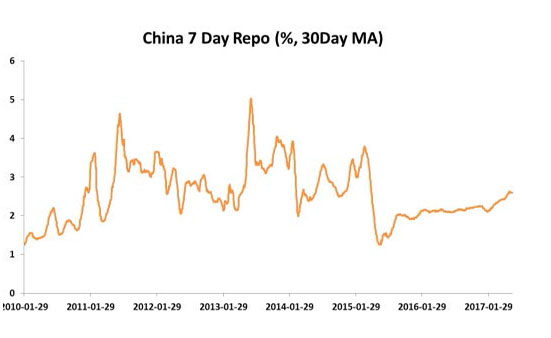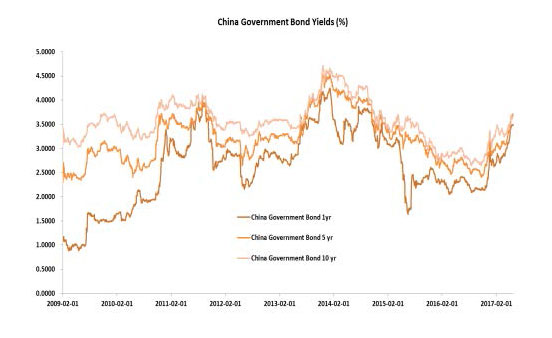 The low rate environment in 2015 and 2016 created an arbitrage opportunity between the interbank financing system and China's bond and equity markets. Funds raised through the issuance of interbank CDs flowed through to bond and equity markets through interbank wealth management and entrusted loan channels.
The deleveraging campaign in 2017 has been aimed at the shadow banking sector, which includes wealth management product (WMPs) and entrusted loan issuance.
Between April and early May, China's bonds have fallen sharply in response to deleveraging measures as well to a general tightening in monetary policy.
Spread Between Interbank CDs and Interbank WMPs Creates Arbitrage Opportunity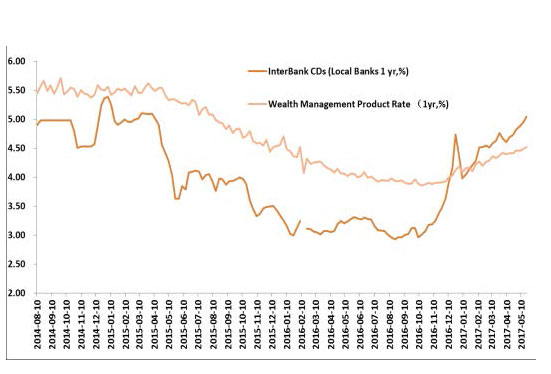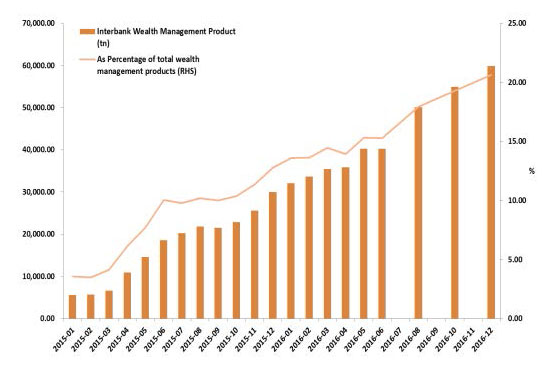 Overseas investors seem to have primarily attributed the recent pullback in broader domestic indices (e.g., SSE Composite and SZSE Composite) financial system deleveraging and monetary tightening. While funding liquidity is an important factor, we feel that regulatory environment changes and shifting regulatory guidance has had an even greater impact on China's recent equity market performance and investor sentiment.
Shifting Regulatory Environment the Most Important Short-term Factor
Since early 2017, a noticeable adjustment in regulatory stance has occurred in China's equity markets. Recent regulatory adjustments include: 1) new restrictions on refinancing channels that in the past funded business expansion and M&A activity for small and medium cap growth companies, 2) increased volume of IPO approvals; 3) public statements by senior CSRC officials expressing the view that large value companies are the foundation of a quality equity market and a healthy economy; and 4) additional measures which have intervened in the efficient operation of China's equity markets.
The CSRC has not clearly indicated the motivations behind its shift in regulatory stance, but it seems plausible that recent adjustments are related to controlling equity market speculation in advance of China's upcoming 19th Party Congress; Mid-small cap growth companies have often been the target of speculation in China's equity markets.
Seasoned Equity Offering Restrictions in January Mark the Start of Change in Regulatory Stance
In January, new restrictions on seasoned equity offerings (SEO) marked the beginning of the change in regulatory stance. The China Securities Regulatory Commission (CSRC) adjusted restrictions on seasoned equity offerings (SEO), reducing the bid-to-market price discount at which SEOs can be issued. This adjustment was followed by increased IPO issuance starting in February. Combined, these regulatory moves could be viewed as an indication that medium and small cap growth stocks have fallen out of favor with China's regulators in the short-term.
In order to fund business expansion and M&A activity, small and medium cap companies have driven SEO issuance to record levels in recent years. New restrictions introduced in February 2017 can be viewed as likely to constrain these companies' ability to generate shareholder value through business expansion and M&A in the short-term. Increased IPO issuance in 2017 also is a headwind, as increased IPO issuance has a greater negative impact on the "Shell Value" of smaller market capitalization companies.
2017 Stock Market Regulatory Timeline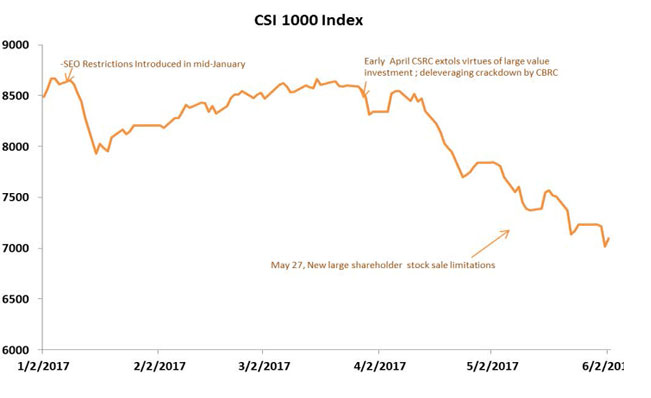 Market Focus: How Long Will the Tilt Towards Value Investment Last?
CSRC Begins to Talk Up Large Value Companies in April
Following the adjustments at the start of the year, the CSRC further clarified its stance in early April through a series of public statements extolling the virtues of large cap value investment for the healthy development of China's capital markets and economy. This announcement came at the same time as efforts by the CBRC to crackdown on shadow banking activity intensified.
Restrictions On Large Shareholder Stock Sales Extended in May
The most recent regulatory change to enter the mix occurred on May 27th, when the CSRC announced more stringent restrictions on the sale of shares held by large shareholders. The revised provision effectively extends the lock-up period for SEO issuances from 12 months to 24 months. The most recent policy change has dealt another blow to the SEO market, not to mention reducing overall market liquidity.
Increased IPO Issuance Coincides with Falling Seasoned Equity Offerings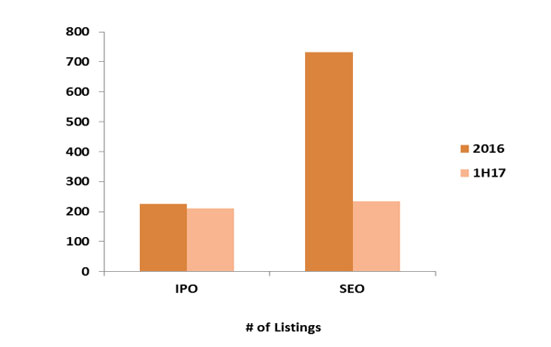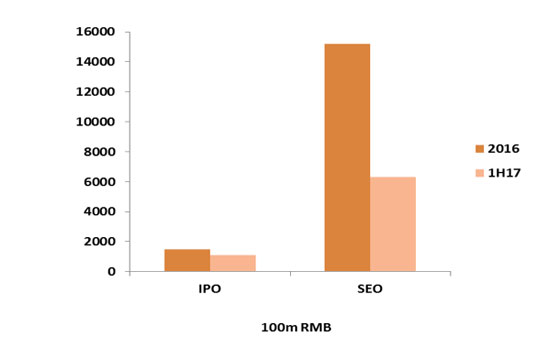 Is the Large Cap Value Tilt a Temporary Divergence or a Trend Shift?
In light of recent changes to the regulatory environment in 2017 and the current credit tightening cycle, a clear divergence in style tilt and performance has occurred: Narrower indices (e.g., CSI 300, CSI 50) comprised of large cap value companies have significantly outperformed small cap value indices and the broader market. Investors in recent months have increased their allocation to what are considered to be shares that are 1) less exposed to liquidity and refinancing risks, and that 2) do not clash with the CSRC's recent statements and actions indicating the belief that a quality stock exchange is built upon large cap value companies.
As active investors, the most important question is whether or not the current regulatory stance and subsequent investor tilt towards large cap value will revert in the near future or become a mainstay.
Before going any further in our analysis, it should first be noted that in China the overlap between large cap companies and value companies is extreme; the same applies for mid-small cap companies and growth companies.
Over a long-term time horizon it is very difficult to find true growth stocks in China that have grown from small cap into large cap companies. Furthermore, large cap companies, which often are state owned and operate in industries with relatively low industry concentration, have a strong ability to withstand competition from new entrants as well as hold the potential to enhance earnings through future industry consolidation and reform. Therefore, from a buy and hold perspective, there seems to be a convincing argument for a tilt towards large cap value.
However, a look at rebalanced style performance tells a different story. An annually rebalanced small cap investment style has outperformed both large cap rebalanced and large cap buy and hold strategies since the start of China's modern equity markets. That is to say that the source of outperformance in small cap stocks is the existence of a small cap premium and not buying and holding small cap stocks that eventually grow to become Blue Chip leaders
Small Cap Under Pressure, But Historically Small Cap Investment Style Has Outperformed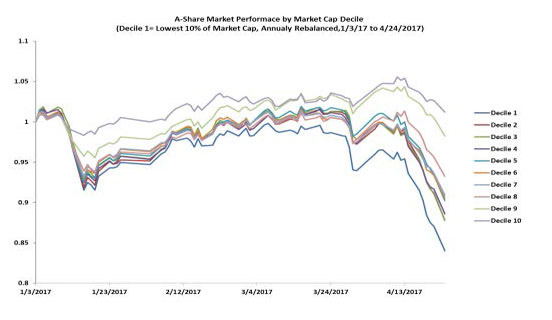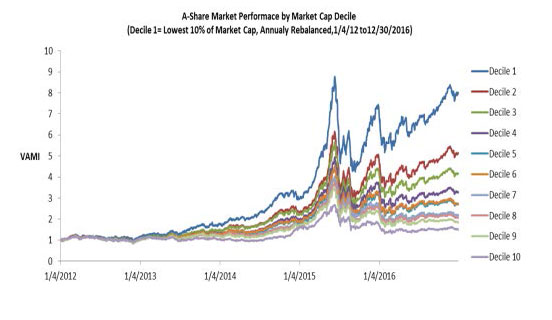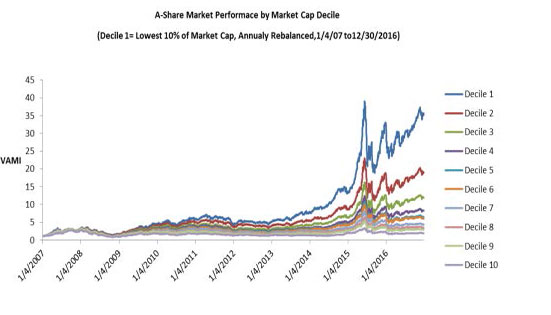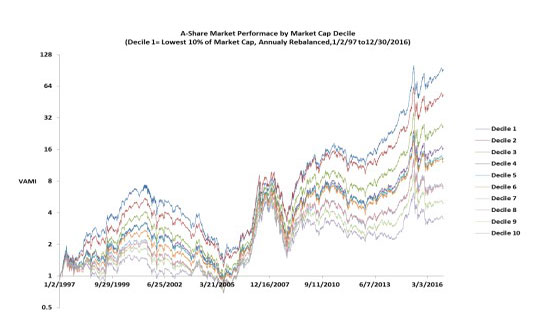 These performance results imply that, unlike in many other equity markets, a small-cap premium still exists in China. For the sake of the healthy development of China's capital markets and its economy, we hope that the recent regulatory and investor tilt towards large cap value stocks is a short-term phenomenon. We strongly believe that economic prosperity and further capital market development depends on value creating, dynamic companies' ability to flourish through access to China's capital markets. However, as active investors, the short-term market inefficiencies created from recent regulatory intervention and herd behavior opens the door to new alpha opportunities that we are eagerly pursuing.
Disclosure: The views and information discussed in this report are as of the date of publication, are subject to change and may not reflect the writer's current views. The views expressed represent an assessment of market conditions at a specific point in time, are opinions only and should not be relied upon as investment advice regarding a particular investment or markets in general. Such information does not represent a recommendation to buy or sell specific securities or investment vehicles. Investing in international or emerging markets may involve additional risks, such as social and political instability, market liquidity, exchange rate fluctuations, and regulatory uncertainty. The subject matter contained herein has been derived from several sources believed to be accurate at the time of compilation, but no representation or warranty (express or implied) is made as to the accuracy or completeness of this information. Jasper Capital International, Ltd. does not accept any liability for losses either direct or indirect caused by use of this information.