Jasper Capital International June Newsletter
2017/6
Benjamin Pollock, CFA, +86 0755-6182-6936
benjamin.pollock@jasperam.com
Bush Guo, +86 0755-61826936
bush.guo@jasperam.com
Market Review: Mid/Small-Cap Growth Shares Lead June Rebound
The month of June saw share prices rise while average trading volume ticked up on a month-over month basis. Stronger performance in June was led by mid cap and small cap indices. The rebound can be attributed to two primary factors:
1) A temporary easing of monetary policy conditions in June
2) A "quiet period" in terms of regulatory announcements
Looking to July and the second half of 2017, the four most important risk factors are funding liquidity, the government's regulatory stance, global central bank tightening, and domestic macroeconomic stability.
Neutral-to-Tight Monetary Policy Environment Likely to Persist
Given the relatively high level of real financing costs at present and the consensus for a weaker macroeconomic environment in 2H17, we believe the likelihood of a significant increase in key rates from current levels remains low. However, the likelihood of a significant fall in short-term or long-term rates also seems unlikely given domestic policymakers' continued desire to control financial system leverage.
After a temporary easing of monetary conditions in June, the PBoC has kept interbank funding conditions neutral in July. July started with net liquidity withdrawals followed by a more eased stance by mid-month. We believe that the reversal from relatively tight funding conditions in April and May does not indicate that supervisory tightening has come to an end. In addition, the possibility of a more hawkish global monetary policy environment in 2H17 limits room for domestic rates to move lower.
Regulators Remain Focused on Controlling Risk Appetite
In terms of regulatory intervention, June was a relatively quiet month. However, China's regulators will likely continue efforts to control risk appetite in advance of the 19th Party Congress scheduled for October/November 2017. Therefore, we expect the overall regulatory environment to remain stringent in 2H17. The National Financial Work Conference, a key policymaking meeting held every five years, is scheduled to convene in mid-July. Policy or regulatory decisions announced during or after the conference could have a material near-term impact on domestic capital markets. One area of focus has been the possibility of China's banking regulator and insurance regulator merging into a "super-regulator" to limit regulatory arbitrage opportunities between China's banking, securities, and insurance regulators.
Mid-Cap/ Small-Cap Shares Lead the Rebound in June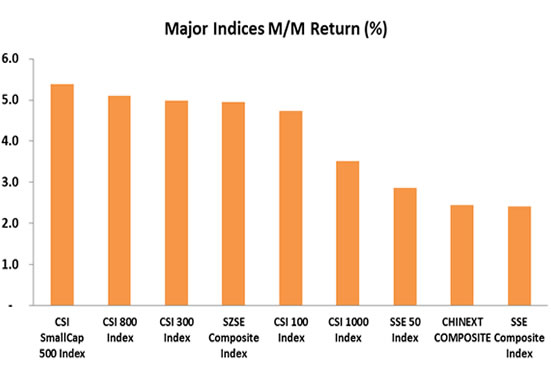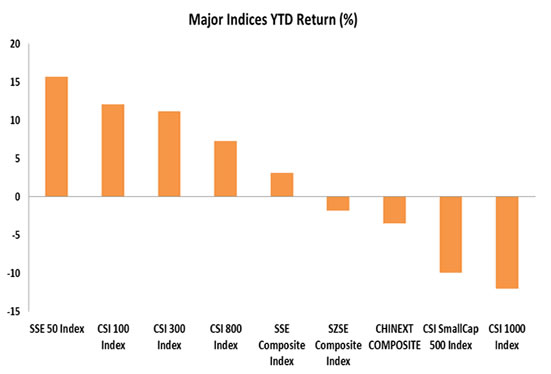 Trading Volume Ticks Up; Net Flows Environment Shows Rangebound Market Persists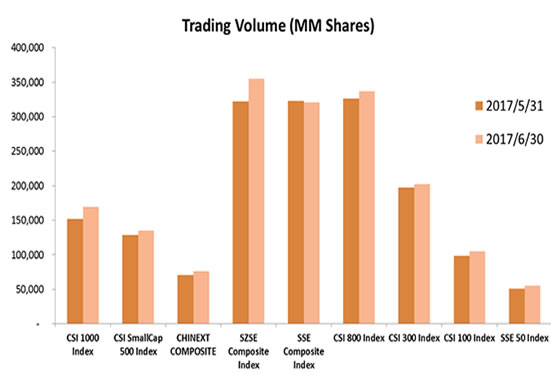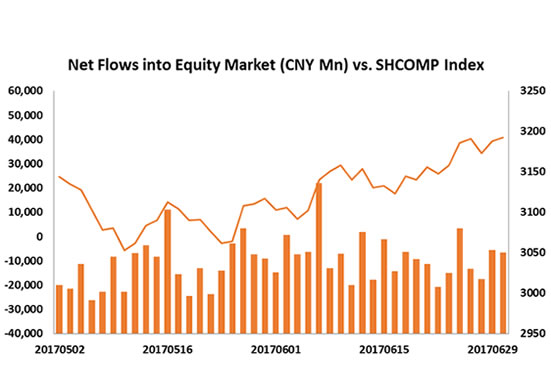 Monetary Policy and Regulatory Environment Curbing Risk Appetite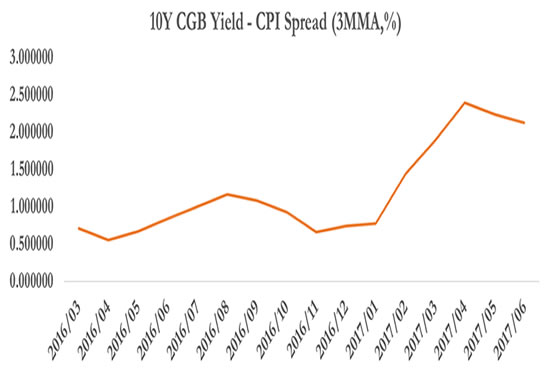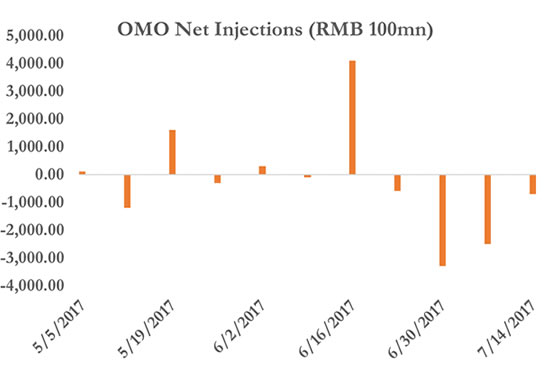 Macro Update: 1H17 Growth Exceeds Expectations; 2H17 Growth Faces Greater Headwinds
Better-than-expected purchasing manager indices readings for June provided a boost to macro sentiment heading into the 2Q17 GDP data release scheduled for mid-July.
China's macro-economic environment in 1H17 has exceeded expectations set at the beginning of 2017. Better-than-expected external demand and property sector resilience have been the key drivers. In addition, a re-accumulation of foreign exchange reserves in 2017 and YTD appreciation of the RMB has calmed near-term macro concerns.
Looking to 2H17, the consensus view is that slowing credit growth, part of a continued effort to crackdown on financial sector leverage, will act as a drag against property investment and manufacturing investment, with the overall effect being a slower growth rate environment for 2H17.
Leading indicators in support of this view include:
1) China's flattening government bond yield curve in June
2) The lead-lag relationship between financing growth and real estate sector investment which suggests that real estate activity will be a lesser support to the economy in 2H17
The necessity to maintain a stable macro and market environment heading into the 19th Party Congress in October remains paramount. This means that infrastructure investment will remain the go-to option for stabilization in the event of a significant slowdown in other sectors.
Recent economic data from China's major trading partners indicates that the external demand picture is likely to maintain its strong momentum in the near-term. However, the impact of unexpected RMB appreciation in 1H17 and export base effects from 2H16 could start to act as a headwind to export growth towards the tail-end of the year.
Better Than Expected External Demand and Property Sector Resilience Underpin 1H17 Strength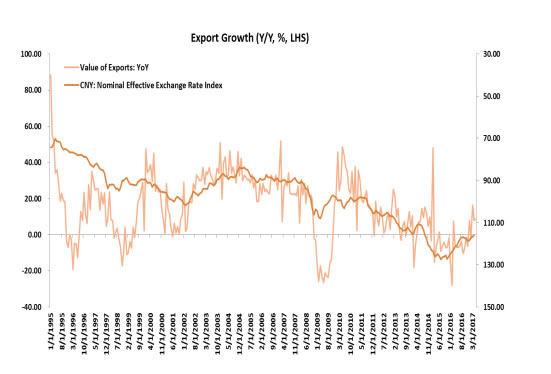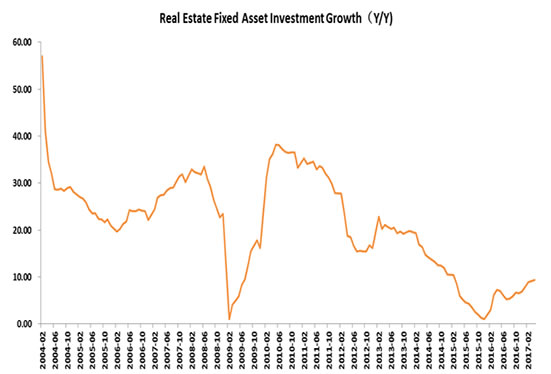 FX Reserve Re-accumulation and RMB Appreciation Further Stabilize Macro Sentiment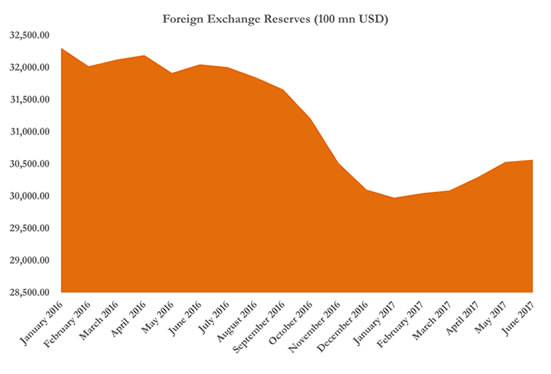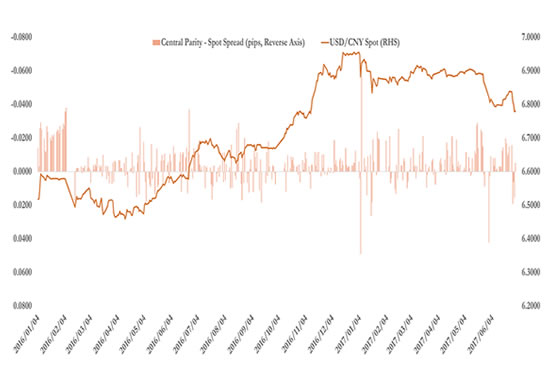 Bond Yield Curve Flattening A Possible Signal of Slower Growth in 2H17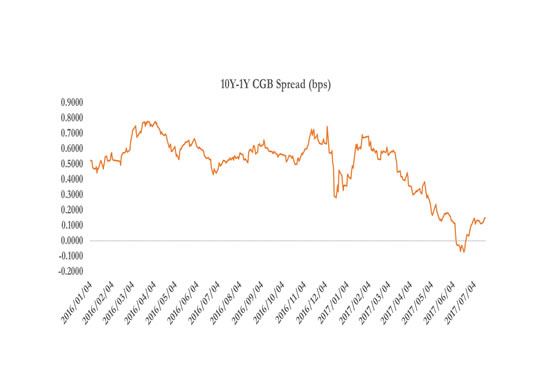 Global Trade Environment to Remain a Near-Term Support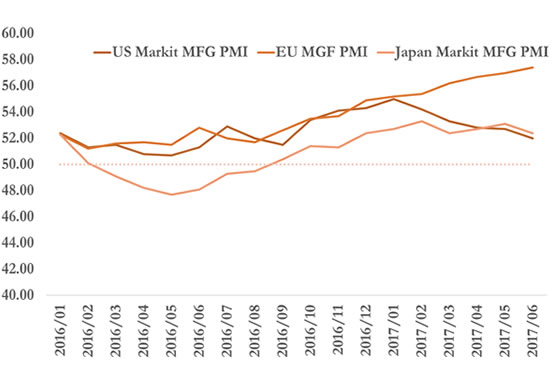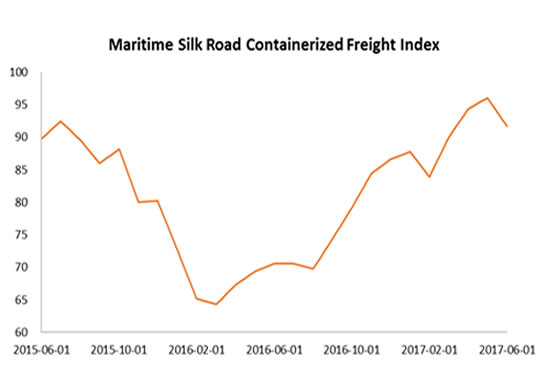 Market Focus: MSCI Inclusion Marks Major Milestone in China's Global Market Integration
On June 21st, China's capital markets reached a major milestone in MSCI's decision to include 5% of A-shares (222 stocks) into its major indices, representing a 0.73% weighting in the MSCI EM Index. Compared with A-share daily market turnover, the short-term impact of A-share inclusion is not likely to be material (i.e., estimates of inflows range from USD$12bn to $18bn), however following the Stock Connect Programs and SDR Inclusion, A-share inclusion signifies an important step forward in China's efforts to further integrate into the global financial system. We believe this effort will have positive long-term implications in terms of higher institutional participation, which in turn is likely to foster lower volatility as well as greater market efficiency in the years to come.
Significant Progress Made Clearing Obstacles Which Prevented Inclusion In Previous Years
MSCI's decision to include or exclude China A-shares is effectively a channeling of its client's views regarding factors such as accessibility, regulatory risk, local market practices, local equity market performance, and the chosen index consultation framework. This year's inclusion follows previous unsuccessful attempts to include A-shares into the MSCI EM Index in 2014, 2015, and 2016.
In 2014-2015, inclusion did not occur due to several key issues:
1) Foreign institutions being dissatisfied with allocation restrictions on QFII/RQFII quotas
2) Restrictions on capital mobility
3) Concerns about ownership rules for investments made via the stock-connect
4) Investor concerns that Chinese equities were overvalued after a roughly 150% rise in the Shanghai Composite Index over the year prior.
In 2015-2016, although beneficial ownership rule ambiguity was resolved and allocation and capital mobility restrictions were relaxed under the QFII scheme, inclusion was delayed another year due to:
1) Investors viewing 20% monthly repatriation limits on QFII investment as being problematic
2) Greater clarity needed on trade suspension rules that were implemented in the wake of a rise in trade suspensions during China's 2H15 bear market
3) Need for resolution of pre-approval requirements by the local exchanges on launching financial products linked to indexes that include A-shares.
4) From early June 2015 to early June 2016, the Shanghai Composite Index fell by over 40%.
Following the 2016 review, China continued its efforts towards meeting inclusion requirements by:
1) Further broadening market access (e.g., the Shenzhen Stock Connect Launch in December 2016)
2) Bringing back the number of trade suspensions to pre-crisis levels through new trade suspension policies
3) Continuing discussions to reach a resolution on the removal of pre-approval requirements on new and pre-existing financial products linked to China A shares.
However, perhaps the most important change that took place, which helped pave the way for inclusion this year, was the shift in the access framework upon which the index inclusion framework is now based upon.
In 2017 the index consultation framework migrated from a "QFII/RQFII" access framework which was used in previous years' consultations to a "Stock Connect" framework.
This shift was made to address the following issues:
1)Investibility: the inclusion universe was reduced from large, mid, and small cap shares to primarily large cap companies traded through the Stock Connect Programs.
2)Replicability: a more stringent screen was applied in terms of trade suspensions in order to ensure replicability and liquidity; corporate event and rebalancing implementation was adjusted to postpone implementation to next day for index changes linked to corporate events and quarterly index review if the event effective date falls on a "Connect" market holiday or due to market closure linked to a daily limit breach; no initial inclusion of IPO given Connect investors cannot participate in primary offerings.
3)Tracking error: a switch from CNY to CNH as the exchange rate to be used for index calculation has been proposed to reduce potential tracking error linked to divergences between the CNY and CNH.
The changes mentioned above have been supported further by relatively attractive valuations for A-shares compared to their off-shore counterparts.
Next Steps
MSCI is likely to use a two-step implementation unless Stock Connect trading limits are eliminated or significantly relaxed prior to the inclusion date. A 2.5% inclusion factor will likely be applied to the pro forma MSCI China Index at the May 2018 Semi-annual Index Review, with the remaining 2.5% to be included later in the year during the August Quarterly Index Review.
In the short-term, index inclusion is unlikely to have a material impact; The long-term significance of A-share inclusion is what matters. Inclusion is an important step among many that China has taken towards gradual integration into the global financial system. We believe that further market opening and additional increases in the inclusion factor will subsequently promote greater market maturity. However, we also believe that the time horizon at which this process is likely to play out could be longer compared to other emerging markets' experience (e.g., South Korea, Taiwan). The longer duration for China to achieve a high level of integration can be attributed to differences in the way in which China's markets and political-economy have developed prior to inclusion.
Despite the longer time horizon for full integration, June's inclusion decision provides further affirmation to the notion that China's markets are already too big to ignore. Given China's status as the world's second largest equity market, third largest bond market, and an economy likely to eclipse the United States in absolute scale of economic output within the next 10-13 years, A-share inclusion is a loud wake-up call to global institutional investors that have largely ignored China's onshore markets.
A-Share Performance Relative To Other Major Market Indices (2017)
A-Share Forward PE Relative to MSCI China (June 2017)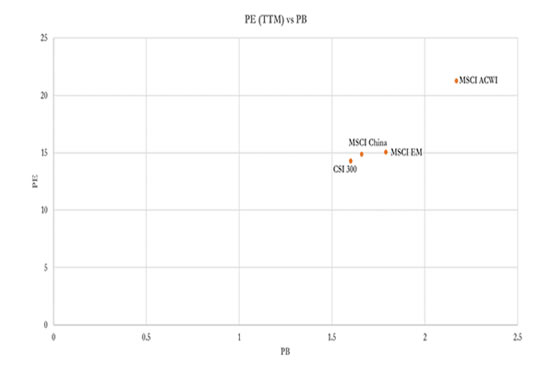 China Too Big to Ignore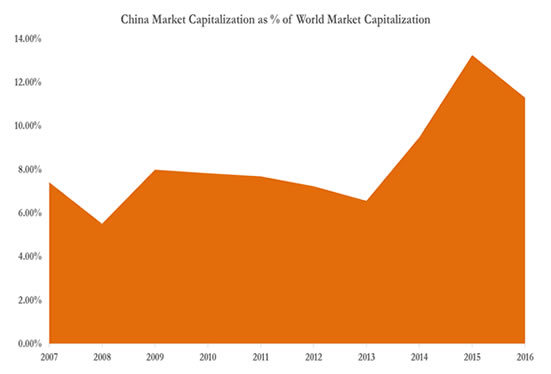 Chinese Economy Likely to Overtake the U.S. by Early 2030's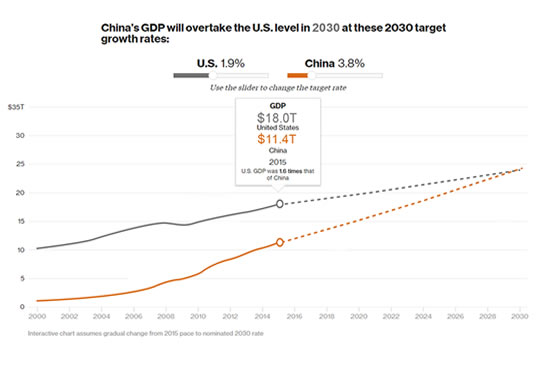 Disclosure: The views and information discussed in this report are as of the date of publication, are subject to change and may not reflect the writer's current views. The views expressed represent an assessment of market conditions at a specific point in time, are opinions only and should not be relied upon as investment advice regarding a particular investment or markets in general. Such information does not represent a recommendation to buy or sell specific securities or investment vehicles. Investing in international or emerging markets may involve additional risks, such as social and political instability, market liquidity, exchange rate fluctuations, and regulatory uncertainty. The subject matter contained herein has been derived from several sources believed to be accurate at the time of compilation, but no representation or warranty (express or implied) is made as to the accuracy or completeness of this information. Jasper Capital International, Ltd. does not accept any liability for losses either direct or indirect caused by use of this information.