Jasper Capital International October Newsletter
2017/10
Benjamin Pollock, CFA, Head of Institutional Sales and Investor Relations
Benjamin.pollock@jasperam.com
+(86)0755-6182-6936
Bush Guo, Vice President, Institutional Sales and Investor Relations
Bush.guo@jasperam.com
+(86)0755-6686-7369
Dr. Yiping Wang, Jasper Capital CIO

Dr. Jason Jiang, Portfolio Manager
We strongly believe that China's market inefficiencies offer attractive opportunities for consistent excess returns. Compared to developed markets, the opportunity set available in China to generate alpha is greater. This is due to the Chinese market's large proportion of retail investors and misbehaviors of key market stakeholders that results in market inefficiencies. The key market stakeholders in China are investors, speculators, listed companies, and regulators. The misbehaviors that are the source of market inefficiencies and of excess return can be defined as cognitive and behavioral biases as well as intentional misbehaviors.
In this month's China Insights letter we focus on earnings misreporting by listed companies and how this type of intentional behavior can be exploited to generate excess returns.
China's ROE distribution curve provides evidence of earnings misreporting by publically listed companies
The distribution of listed companies' return on equity (ROE) in theory should roughly resemble a normal distribution* as seen in the case of publically listed companies in the United States.
However, in China there is a noticeable kink in the ROE distribution around 0%-6% (See Page 2). This higher than normal frequency suggests earnings misreporting by publically listed companies in China.
Regulatory structure, the IPO and delisting process, and investor preferences explain the ROE distribution abnormalities
To understand the motivation behind listed company earnings manipulation one must have a better understanding of the unique characteristics of China's regulatory structure and local investor preferences.
There are several elements of China's regulatory policy that provide strong motivation for listed companies to misreport earnings: 1) companies that report three consecutive years of negative earnings are delisted; 2) the penalties for earnings manipulation are relatively light; 3) a regulatory vetting process for IPOs has created a "Shell Value" for publically listed companies that often exceeds the penalties for financial fraud; and 4) "Shell Value" in some cases can make companies attractive M&A targets. The combination of these elements has provided strong motivation for listed companies inflate earnings.
From an investor preference perspective, a strong emphasis placed on current earnings relative to future growth provides motivation for listed companies to exaggerate earnings. Where as in the US a company like Tesla can report negative earnings and still stay in favor with retail and institutional investors due to growth potential, Chinese retail investors are far less forgiving of loss making companies.
Over time we have seen the ROE distribution slowly moving towards a more normal distribution. A potential explanation for normalization is that as China's markets continue to slowly integrate with global capital markets, as domestic regulators and investors continue efforts to promote accurate financial reporting, and as investor preferences and time horizon change the frequency of misreporting has decreased.
That being said, we still find an abnormally high number of companies penalized for earnings fraud often found to have an ROE that is either slightly negative or slightly positive, within a range of 0 to 6% ROE.
Generating alpha from listed company misbehavior
The first step in an approach to generate excess return from the misbehavior described above could be to hone in on the 0% to 6% ROE range where misbehavior seems most likely. In the second step, conditioning factors could be applied to better identify which companies are indicating a high likelihood of earnings manipulation. Even though effective methods to short individual stocks in Mainland China are lacking, identifying which stocks should be shorted is a useful exercise as purely avoiding the selection of these shares in certain market environments can result in excess return.
* Regardless of exchange location, the IPO process is not completely random, therefore ROE will not exactly follow a normal distribution.

ROE Distribution of US Public Companies from 2000 to 2016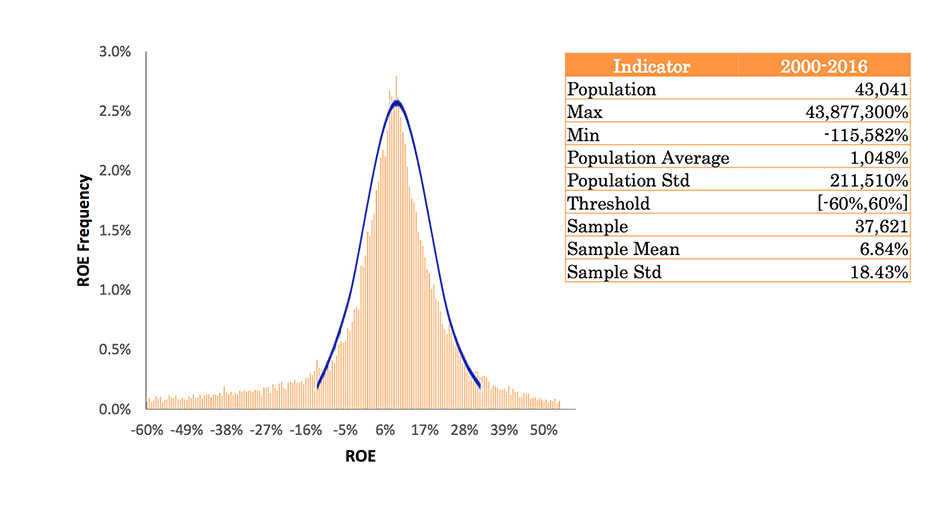 ROE Distribution of A Share Public Companies from 2000 to 2016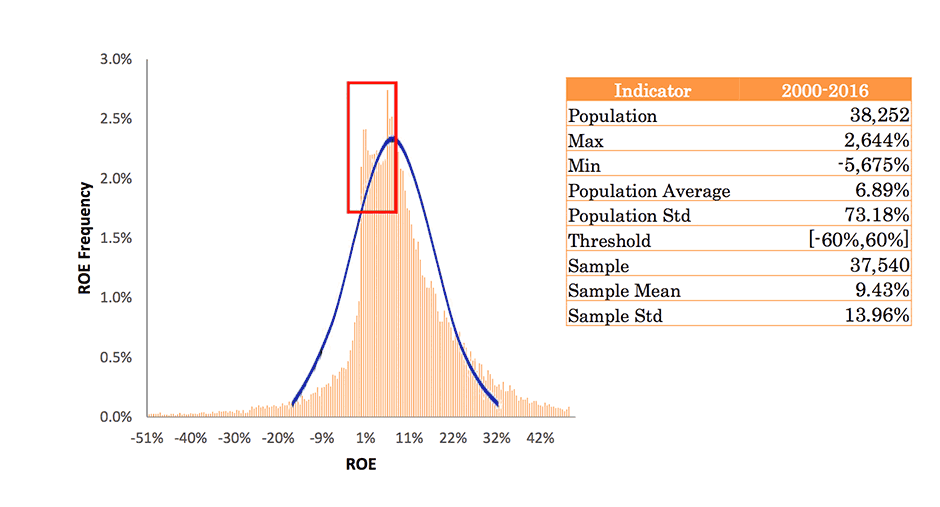 ROE Distribution Changes of A Share Public Companies from 2000 to 2016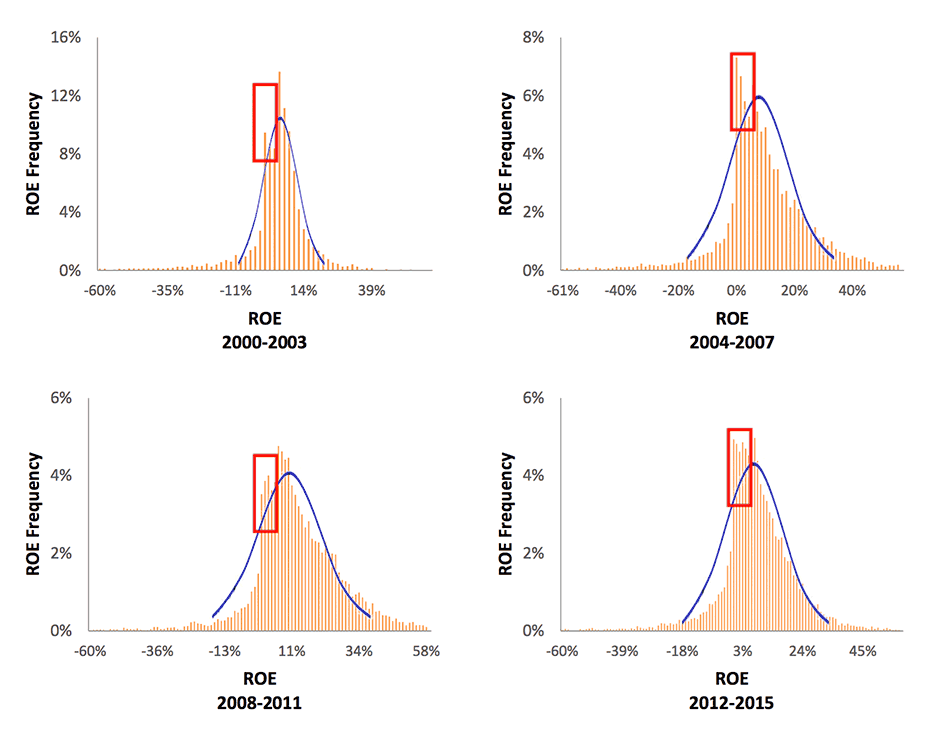 ROE of A Share Public Companies Penalized for Financial Fraud from 2010 to 2016

Distribution Changes of US Public Companies from 2000 to 2016

Distribution Changes of A Share Public Companies from 2000 to 2016

A Share Public Companies ROE Distribution Moving Closer to Normal Distribution (2000 to 2016)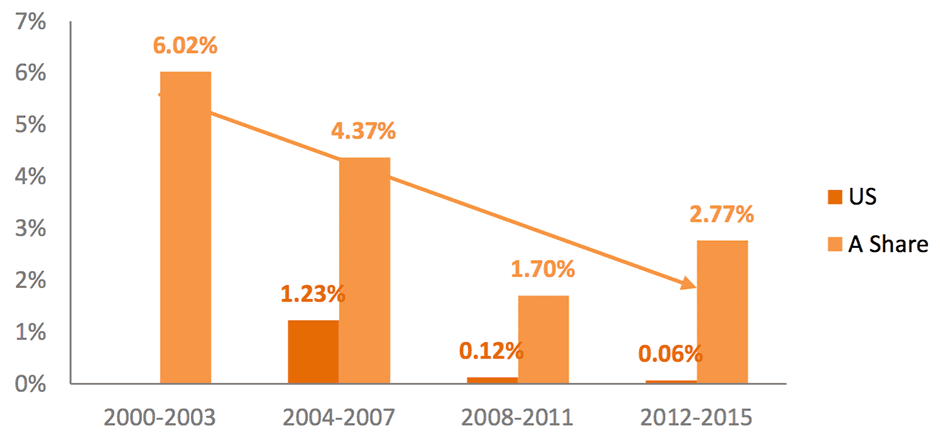 Disclaimer: The information contained herein (the "Information") is for illustration and discussion purposes only. It is not, and may not be relied on, as investment advice or as an offer to sell or a solicitation of an offer to buy any security, including any investment or any interest in the fund or funds referred to above (the "Fund"). The Information is not sufficient to form a basis for deciding to make any investment. It does not contain material information regarding the Fund, including specific information pertaining to an investment in the Fund and important risk disclosures. There can be no assurance and no representation, express or implied, is made that the Information is accurate. The Information is provided as of the date indicated, is not complete, is subject to change, and no obligation is undertaken to revise or update it.
Any offer or solicitation of an investment in the Fund may be made only by delivery of the Fund's confidential offering documents. Prior to making any decision to invest in any fund, you are advised to obtain the fund's offering documents, to perform your own independent review (in consultation with your own legal, tax, accounting and other advisors) of those materials, the fund, the fund manager as well as any performance data available to you.
An investment in the Fund is not suitable for all investors. Any offer or solicitation of an investment in the Fund may be made only to qualified investors in accordance with applicable law. In providing the Information, no action has been taken to qualify any potential investor, in any jurisdiction, including without limitation in the United States under the Securities Act of 1933 or the US Investment Company Act of 1940.
Past performance is not necessarily indicative of future results. There can be no assurance and no representation is made that the Fund will make any profit, and a total loss of principal may occur. The use of differing performance calculation methodologies may produce different results, and the Fund's performance Information may not be comparable to the performance information provided by other funds or managers. Unless otherwise indicated herein, any performance or other financial Information included herein is unaudited, and the performance of data shown is net of fees (including without limitation management fees and performance fees) and expenses and presumes reinvestment of income.
All information contained herein is provided by the fund or manager and is solely the responsibility of the fund or manager.